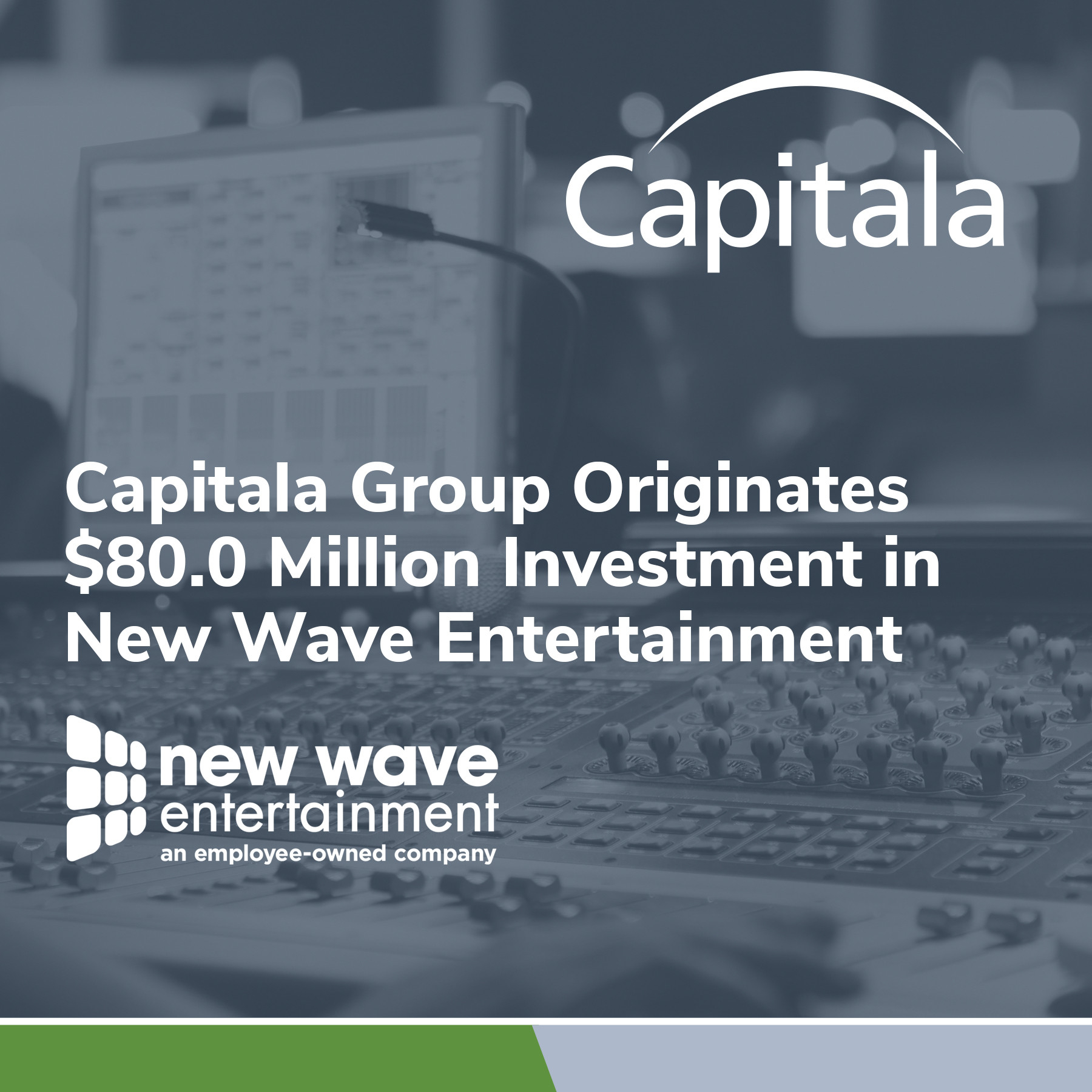 Capitala Group ("Capitala") is pleased to announce its recent investment in New Wave Entertainment, Inc. ("New Wave"), an entertainment company specializing in post-production and entertainment marketing.
Headquartered in Burbank, CA, New Wave is an employee-owned film marketing and production company that specializes in sound mixing, trailer creation and other ancillary services for movie studios. In addition to services surrounding film production, the Company also has a division focused on the production and distribution of various media types, such as television, film, podcasts, and comedy specials. New Wave maintains a diverse client base consisting of established brands in the film industry such as Sony, Disney, and Warner Media.
Capitala originated the $80.0 million investment opportunity in New Wave and syndicated a majority of the deal with existing Capitala lender and non-lender relationships. Funds from the transaction will support New Wave's ongoing growth.
About Capitala Group
Capitala Group is an asset management firm that has been providing individually tailored, private credit and private equity capital to lower- and middle-market businesses throughout North America for over twenty years. Since our inception in 1998, Capitala has invested over $2.1 billion into small businesses and strives to make an impact through responsible investing and a unified mission to support ESG initiatives. We seek to partner with strong management teams to create value and support growth through strategic partnerships, operational expertise, and a shared vision for success. For more information, definition and details visit Capitala Group's website at www.CapitalaGroup.com.

Press Contact:
Katina Cole Jakubowski
Director of Marketing
kjakubowski@capitalagroup.com
This press release should not be used or considered as an offer to sell or a solicitation of any offer to buy securities or services of Capitala Group or any other issuer. Any historical data provided is to illustrate past performance and for informational purposes only and not as a representation or prediction that such performance could
or will be achieved in the future. Past performance is not an indication or guarantee of future results and there can be no guarantee that any historical trends will continue. Please refer to disclosures made available on our
website
https://www.capitalagroup.com/disclosures for more detailed explanations of the risks of investing in private securities. Prospective investors should consult their own financial and legal advisors about risks associated with private fund investments and the suitability of investing in such assets.
---