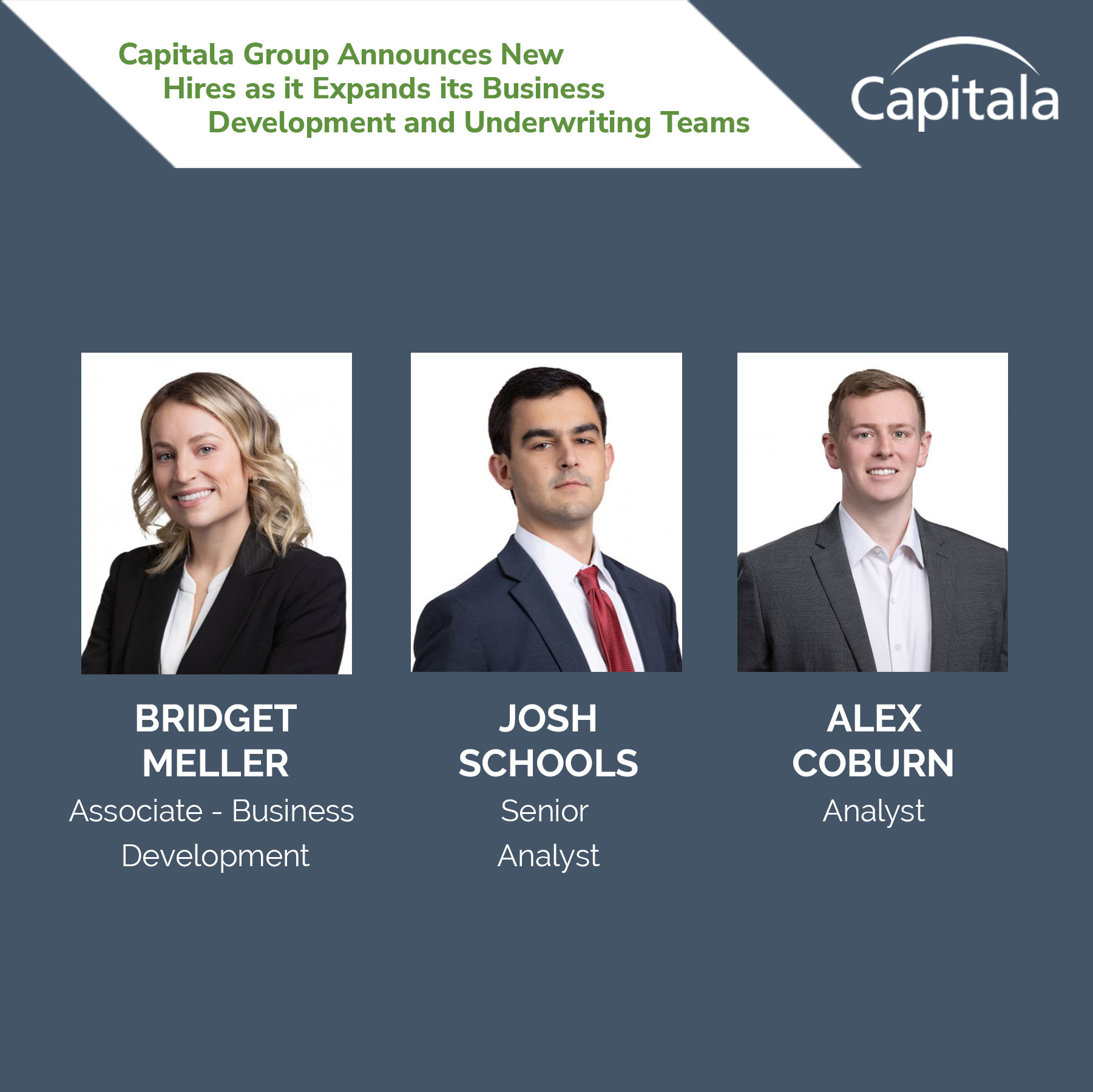 CHARLOTTE, NC, - Capitala Group ("Capitala"), a provider of private equity and private credit capital to lower- and middle-market companies, announced today it has expanded its underwriting and business development teams. Bridget Meller has joined as Business Development Associate, while Josh Schools and Alex Coburn will serve on the underwriting team as Senior Analyst and Analyst respectively.
"As we continue to build out our best-in-class team of professionals, we are thrilled to add Bridget, Josh, and Alex to the Capitala roster," stated Steve Arnall, President and COO of Capitala Group. "Capitala is committed to hiring top talent that plays an integral role in our origination and underwriting processes, allowing us to effectively identify small businesses in need of private equity and/or private debt capital for growth."

Bridget Meller served on the Business Development team at Clearlake Capital, a $70 billion-dollar private equity firm investing in both private and public transactions in the lower and middle market. Ms. Meller graduated cum laude from the University of South Carolina with a B.S. in Hospitality Management.

Josh Schools worked as a Portfolio Manager in First Horizon's asset-based lending group where he assisted customers in various industries with their working capital needs. Mr. Schools graduated from the University of Alabama with a B.S. in Commerce and Business Administration with a double major in Economics and Finance.

Alex Coburn worked as an analyst in Fifth Third Bank's Debt Capital Markets group where he originated, underwrote, and distributed leveraged loans and high yield bonds for corporate clients and financial sponsors in various industries. Mr. Coburn graduated from the University of Cincinnati's Carl H. Lindner College of Business with a B.B.A. in Finance.

About Capitala Group
Capitala Group is a leading asset management firm that has been providing individually tailored, private credit and private equity capital to lower- and middle-market businesses throughout North America for over twenty years. Since our inception in 1998, Capitala has invested over $2.1 billion into small businesses and strives to make an impact through responsible investing and a unified mission to support ESG initiatives. We seek to partner with strong management teams to create value and support growth through strategic partnerships, operational expertise, and a shared vision for success.
Press Contact:
Katina Cole Jakubowski
Director of Marketing
kjakubowski@capitalagroup.com
---