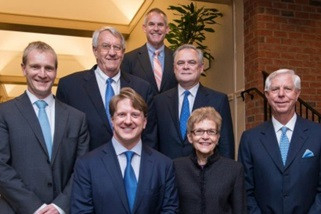 Capitala Group Board Member, H. Paul Chapman, was one of six recipients of an award at its 17th Annual Alumni Association Awards ceremony recently in Chapel Hill, NC. The awards recognize members of the UNC Kenan-Flagler community who personify the School's core values of excellence, leadership, integrity, community and teamwork.
"These awards celebrate alumni who have distinguished themselves through their careers, their contributions to the broader community and their service to UNC Kenan-Flagler," said Douglas A. Shackelford, dean of UNC Kenan-Flagler and Meade H. Willis Distinguished Professor of Taxation. "We recognize them as role models for the graduates who follow them."
Richard L. Michaux (MBA '73) of Washington, D.C., chairman emeritus, AvalonBay Communities
Janet L. Davis (BA '73, MBA '89) of Cary, North Carolina, retired CEO of ShopperTrak RCT Corporation and active board member
H. Paul Chapman (BSBA '74) of Charlotte, North Carolina, retired senior audit partner at KPMG and professor of the practice at UNC Kenan-Flagler
Lonnie Craven Poole, Jr. (MBA '64) of New Smyrna Beach, Florida, founder and former chairman, Waste Industries USA, received the Business School Leadership Award for exceptional achievement in a career field, personal endeavor or service to UNC Kenan-Flagler.
Jeffrey K. Tucker (MBA '00) of Dallas, Texas, managing director and chief operating officer, Century Bridge Capital, received the Global Leadership Award for global participation and initiative to advance the School's education, research and public service mission.
Jim Jones (MBA '06) of Glenview, Illinois, partner at William Blair Investment Management, received the Outstanding Young Alumni Award for leadership in career accomplishments and exceptional commitment to the School.
---