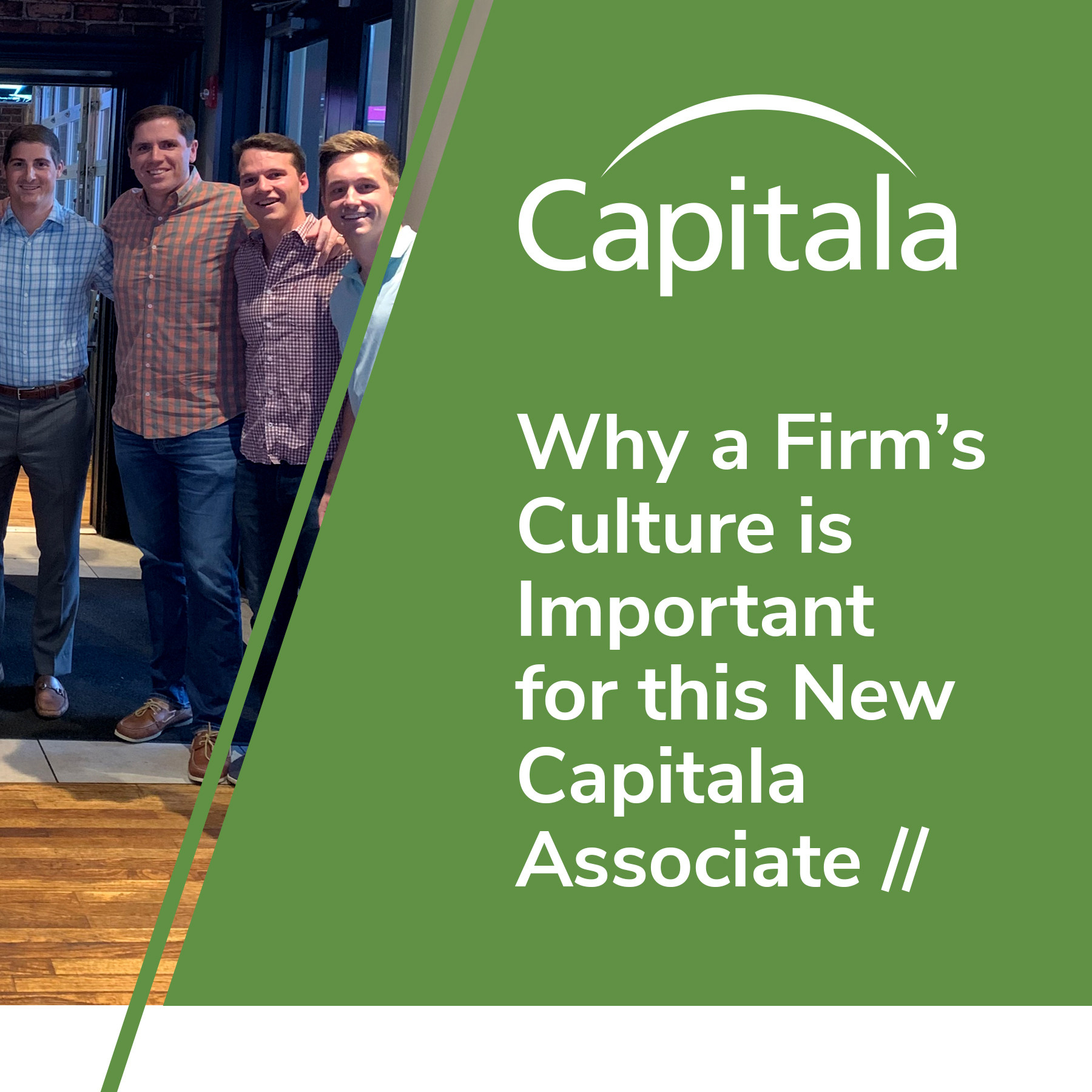 Elusive, powerful and intertwined with strong leadership, an organization's culture is one of the most predictive measures of success. Time and again, we see that our more successful Capitala portfolio companies have a palatable, high-energy culture based on collaboration, support and continual learning. We find those with strong cultures can reach their strategic goals on a more consistent basis.
And we get to learn from the best of them!
Our recruiting process allows us to continually reexamine our own culture to ensure that we are hiring amazing team members who will bring a combination of skills to do their job effectively but to also add to our culture in meaningful ways.
We recently sat down with Harrison Pate, an Associate at Capitala to understand his perspective on our firm and the team, and to outline the factors that ultimately led him to accept our offer. Harrison joined us from Bank of America Merrill Lynch where he spent four years executing debt financings with financial sponsors.
What interested you about the opportunity at Capitala?
After spending four years at Bank of America Merrill Lynch acquiring the building blocks necessary to succeed in this industry, I knew that I had so much more to learn. Wanting to gain more deal exposure and roll-up my sleeves, I wanted the ability to look at a transaction from two sides: as a company owner and as a private equity investor.
After initially meeting with the Capitala team and researching the types of deals and companies the firm worked with, I knew that it was the right spot for me to gain the exposure and knowledge I was seeking. To top it off, I enjoyed meeting the people I interviewed with and felt they were genuinely interested in me and my career aspirations. I'm excited to be working alongside some great investors.
Maintaining a strong culture is extremely important at Capitala. What about Capitala's culture jumped out at you during the interview and made you think this would be a great place to work?
Upon entering Capitala's doors for the first time, I sensed a very strong collegial culture across all levels of seniority. Coming from a large institution, I was excited to partake in a smaller firm culture where I would be exposed to deals that only senior professionals would have the opportunity to work on at my previous firm. And from speaking with folks here, it was clear that it was a team environment where everyone pitched in to help out the portfolio companies, LPs and each other.
It is a supportive culture where everyone is encouraged to learn and reach for opportunities to expose themselves to new challenges.
In what area will you be spending most of your time at Capitala? What opportunities do you foresee in the next six months?
Focused primarily on the credit side of the firm, I believe we will continue to see a healthy flow of both sponsored and unsponsored companies seeking credit-based solutions over the coming months and quarters—especially in light of COVID-19. I look forward to identifying credit solutions to help companies grow into new markets or to execute on their strategic visions.
Since joining Capitala, what stuck out as being memorable both professionally and personally?
Professionally, I have been thoroughly impressed with the wide range of knowledge and experience that exists institutionally at Capitala. While listening to my colleagues discuss the merits of a deal, it seems there is always someone who has valuable expertise to help drive the dialogue. It is a great, quick-paced environment for an Associate-level professional to learn about the deal process, capital markets and to strengthen some soft skills such as negotiation tactics.
From a personal perspective, I feel that Capitala has a strong culture that is based on collaboration, support and continual learning. I experienced this firsthand when I recently went through the process of purchasing my first home. Although exciting, the home buying experience was much more complex and stressful than I anticipated. My teammates showed continuous support by providing me with flexibility and assurance every step of the way. I'm thrilled to have joined the Capitala team.
Let's get personal. Please share a fun fact about yourself.
I am a travel fanatic, especially internationally. I have toured a number of countries across Europe and had the opportunity to attend the London 2012 Summer Olympics and the 2016 Euro Cup in France – experiences I will never forget. I'm always looking for new places to visit, so let me know if you have a destination I should add to my list once we are past this pandemic.
---