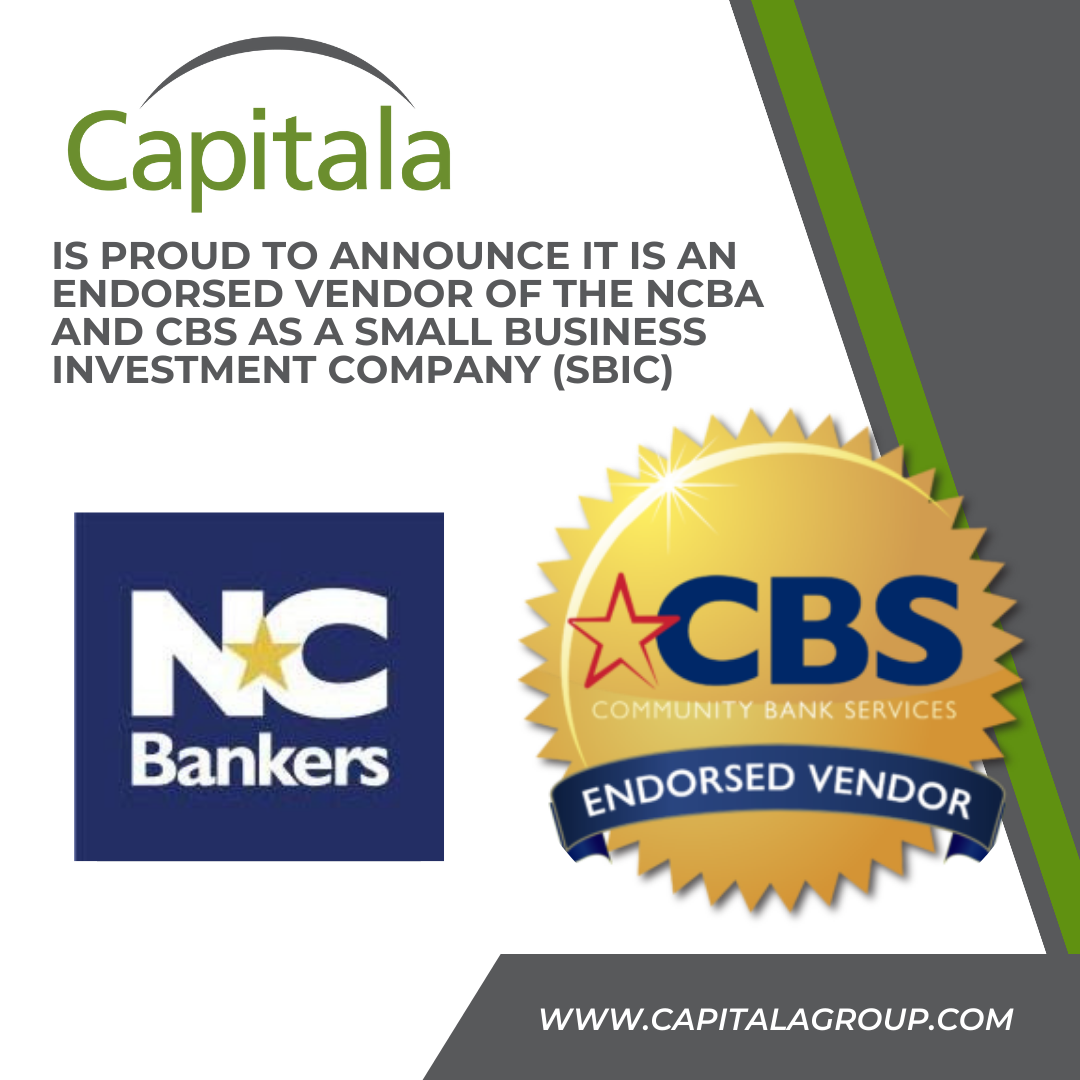 RALEIGH, N.C.— The North Carolina Bankers Association (NCBA) and its wholly owned subsidiary, Community Bank Services (CBS), announce the endorsement of Capitala Group ("Capitala") and its designation as a Small Business Investment Company ("SBIC").
Based in Charlotte, North Carolina, Capitala has been providing debt and equity capital to lower middle market small businesses for 25 years. Through four prior SBIC funds, Capitala has generated an 18% net IRR* for its investors.
"We are honored to receive an endorsement from Community Bank Services," stated Steve Arnall, President and COO at Capitala. "Bank investors, including those based in our home state of North Carolina, provide us with the capital needed to meet the needs of small businesses."
Banks, through an exemption in the Volker Rule, are permitted to invest in SBIC Funds. Through an investment, banks receive Community Reinvestment Act ("CRA") credit for their commitment, earn income through regular distributions, and are afforded co-investment opportunities.
Lauren Perry, President of CBS, a wholly owned subsidiary of the North Carolina Bankers Association, said, "We are thrilled to work with Capitala Group and provide our members with access to their resources and industry relationships. We are confident that this partnership will assist our member banks in keeping abreast of market trends, exchanging best practices, and advancing their businesses."
ABOUT CAPITALA GROUP
Capitala Group is an asset management firm that has been providing private credit and private equity capital to lower- and middle-market businesses throughout North America for over twenty years. Since our inception in 1998, Capitala has invested over $2.2 billion into small businesses and strives to make an impact through responsible investing and a unified mission to support social impact initiatives. We seek to partner with strong management teams to create value and support growth through strategic partnerships, operational expertise, and a shared vision for success. For more information, please visit www.CapitalaGroup.com
ABOUT THE NORTH CAROLINA BANKERS ASSOCIATION:
Organized in 1897, the North Carolina Bankers Association is the professional trade organization for the state's banking industry, providing advocacy, leadership, and support for its members. The Association has two subsidiaries, Centrant Community Capital (Centrant), and Community Bank Services (CBS). Centrant provides permanent debt financing for affordable housing communities in six states. CBS offers insurance and employee benefit products, as well as other services to the Association's members and affiliates. For more information, visit at www.ncbankers.org.
Steve Arnall
President & Chief Operating Officer
Capitala Group
sarnall@capitalagroup.com
Blair Kennedy
Director of Communications and Community Outreach
North Carolina Bankers Association
bkenedy@ncbankers.org
*Net IRR disclosed is based on a weighted average net IRR for each Legacy SBIC fund weighted on the basis of dollars deployed.
This endorsement by the NCBA may not be representative of all experiences with Capitala Private Advisors, LLC or their investors. This endorsement was unpaid and not from an actual investor of Capitala Private Advisors, LLC.
---