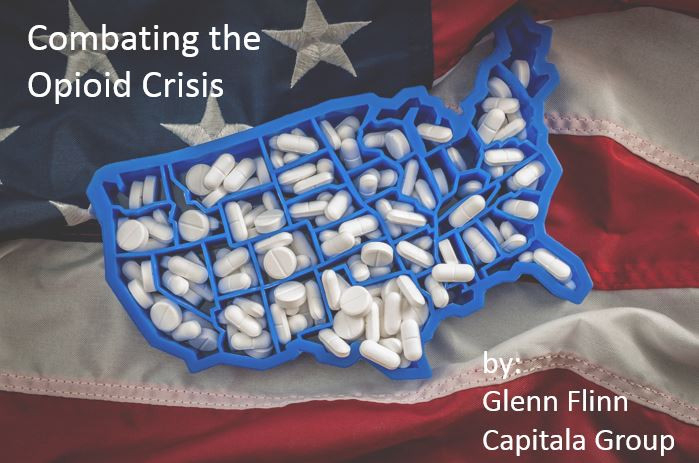 The opioid crisis in America, featuring rampant drug abuse, deaths and disabling by overdose, and the emotional, financial and productivity costs to society, are taking a great toll on our country. Substance abuse is now prevalent in all walks of life and across all socioeconomic classes. Almost everyone has ties to someone struggling with substance abuse. The severity of this crisis is alarming.
The statistics on the impact of this drug crisis on society are staggering. The National Safety Council reports that accidental drug overdose is the leading cause of death in the U.S. for those under the age of 50, surpassing automobile fatalities.1 The overdose rates in our country are 3.5 times higher on average than 17 other wealthy nations and increasing.2 The Center for Disease Control (CDC) reports that annual overdose deaths have risen from under 17,000 to over 70,000 in less than twenty years, and are climbing.347,600 of those annual overdose deaths are from opioids.4 The sharpest increase involves heroin and the synthetic narcotic fentanyl. Methamphetamine and cocaine overdose deaths are also on the rise.To put this in perspective, the deaths from overdoses in just 2016 alone exceeded the total deaths from the Vietnam and Iraq wars combined.5 U.S. government mental health and substance use disorder expenditures are expected to reach $280 billion in 2020 per the Substance Abuse and Mental Health Services Administration.6 The shocking statistics foretell a serious crisis in our midst, with seemingly no clear road map to combating it in sight.
There is no debating that America is faced with a drug crisis.The current Administration has pledged significant financial support to combat the situation. Efforts to secure the southern border of the U.S. continue in hopes of deterring the prevalent drug smuggling activities and the Administration has achieved some success in restricting the distribution of the synthetic narcotic fentanyl in China.7 The Obama Administration expanded mandated behavioral health benefits into insurance plans through the Affordable Care Act. Ultimately the private sector will be an important solution to the problem, in conjunction with government support. Businesses providing care to substance abuse sufferers continue to grow in number but cannot keep pace with the increasing demand for treatment. The inclusion of behavioral health coverage into insurance plans has propelled additional treatment capacity to come online.
No perfect protocol for providing care in this space exists, and many different treatment options are available: gender specific, age specific, inpatient, outpatient, partial hospitalization, sober living, and Medicated Assisted Treatment (MAT) among many. MAT methods, such as utilizing methadone to gradually reduce dependency, have been yielding improved treatment outcomes for patients with opioid use disorders versus traditional detoxification and abstinence methods.8 Providers and patients are seeking data from the industry to quantify the effectiveness of certain treatments and to determine which treatments are best, for which drug problem, to assist with treatment evolution.
A big change in substance abuse treatment is being precipitated by the health insurance industry. Lengths of stay in facilities have reduced and a shift to various outpatient treatment approaches is now common. Insurers have cracked down on "gaming" of the system through toxicology testing and reimbursement for such testing has been drastically reduced. In addition to reimbursement headwinds, there are increasing regulatory changes for insurance providers to manage. Compliance is always important when analyzing healthcare transactions, but in the substance abuse sector, it is essential.
At Capitala Group we have seen healthcare providers abandon the lab testing business, and choosing to outsource it entirely. That certainly helps with compliance and unwanted investigations. Lab testing remains important for confirmations (positive and negative) for patients under care who are receiving prescription medications. We expect to see continued M&A activity in the substance treatment space for some time. Per research by the Braff Group, M&A activity in the substance abuse sector peaked in 2016 at over 60 deals but has remained strong at 50+ deals per year in 2017 and 2018. There was a notable decline in high-end residential treatment as value options are being sought and encouraged.The Braff Group also projects a continued softness in high-end residential treatment while at the same time strong M&A activity in campus-like programs offering a little bit of everything.As such they project increased interest in clustering these diverse programs in a well-defined geographic footprint.
The strategy for combating the opioid and substance abuse crisis is evolving. Effective medical treatments for addiction are being presented, and providers and their financial partners, will share a crucial role in exploring new pathways to recovery.
Glenn Flinn is a Director at Capitala Group. Capitala Group is a $2.7 billion asset management firm providing capital to lower middle market companies throughout North America since 1998.
__________________________
[1] National Safety Council. Deaths by State of Occurrence. Retrieved from https://injuryfacts.nsc.org/state-data/deaths-by-s...
2 Ho, J. Y. (2019, February 20). The Contemporary American Drug Overdose Epidemic in International Perspective. Retrieved from https://onlinelibrary.wiley.com/doi/full/10.1111/p...
3 Opioid Overdose. (2018, December 19). Retrieved from https://www.cdc.gov/drugoverdose/data/statedeaths....
4 National Institute on Drug Abuse. (2019, January 29). Overdose Death Rates: National Drug Overdose Deaths Involving Any Opioid. Retrieved from https://www.drugabuse.gov/related-topics/trends-st...
5 Lopez, G. (2017, July 07). The latest harrowing statistic from America's opioid epidemic. Retrieved from https://www.vox.com/policy-and-politics/2017/7/7/1...
6 SAMHSA. (2014). Projections of National Expenditures for Treatment of Mental and Substance Use Disorders, 2010-2020. Retrieved from https://store.samhsa.gov/system/files/sma14-4883.p...
7 Felter, C. (2019, January 17). The U.S. Opioid Epidemic. Retrieved from https://www.cfr.org/backgrounder/us-opioid-epidemi...
8 The Braff Group. The State of Addiction Treatment 2019.
---