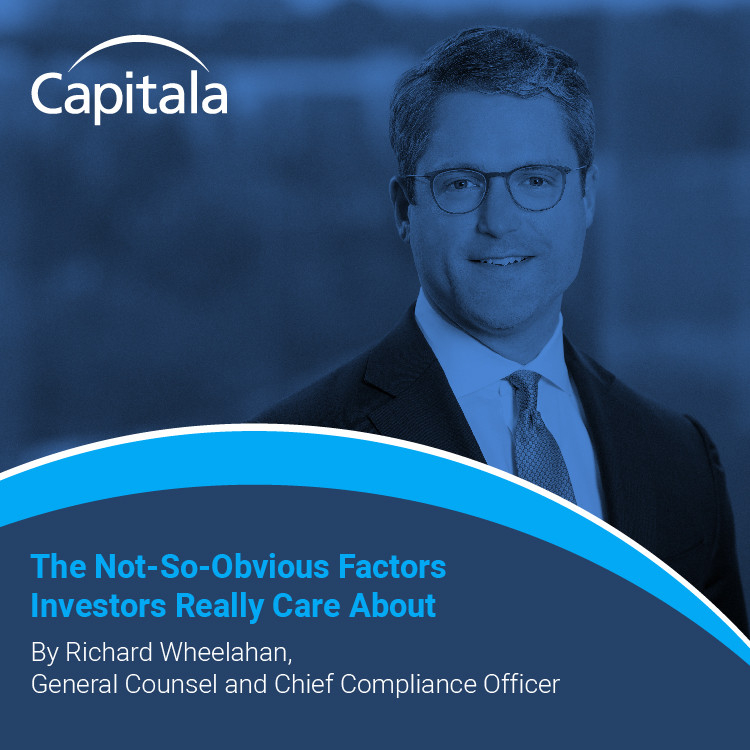 August 08, 2019

I've often analogized the asset management business to a platform resting on three legs. One or two can be a little longer or shorter than the other, but the three areas work together to elevate the platform. Those areas are investment management (how you originate, invest and realize your investors' capital), risk management (how you avoid or mitigate regulatory, legal or reputational risks to the platform) and capital formation (raising capital and communicating with your investors). Without some success in all three, you don't truly have an asset management platform. Without capital, you don't have a platform. You just have an idea.

A few weeks ago, I had the privilege of moderating a discussion about the criteria that investors apply in selecting credit fund managers. Our participants were global alternative asset investors, consultants pension managers and asset managers who were attending LPGP Connect's New York Private Debt conference.

Whether you're a multi-strategy firm managing over $10 billion or an emerging manager seeking to break out, you pay close attention when capital allocators are speaking. If you're advising alternative asset managers or seeking a career in the industry, you know that the investors are the foundation of the industry. By 2020, investors in alternative asset classes will have allocated well over $10 trillion[1] to hundreds of asset management firms. The ability to identify investors' objectives, demonstrate an ability to meet them and then prove it (by how your firm manages their capital) are the factors that will make or break asset management firms.

How do you know what investors want?

First thing's first. Let's pass on the low-hanging fruit. As an asset manager, you aren't even in the discussion without the "idea". Let's assume, for purposes of our conversation, that you have a successful investment management track record and that your firm has demonstrated compliance with applicable laws and regulations. What, on the margins, can you do to boost your credibility or make your firm more compelling than your competition? Although the opportunities to stand out to investors (beyond returns and fund terms) are numerous, three of the panelists' factors stood out to me: culture, strategy drift and ESG.

Culture (Silently) Speaks Volumes

Every asset management firm touts its team. When investors conduct on-site due diligence, the team – its pedigree, professional experience, years of cohesion – is touted to the investor, followed by a tour of the office. Teams are tangible. Culture, however, is less-tangible, but no less important to investors. Whether pouring over offering materials, interviewing professionals on-site, or participating in conference calls, investors are keen to observe your firm's culture. Is there enough cohesion among senior- and entry-level management teams for you to credibly claim to have a firm culture? Is there intellectual freedom to promote investment theses (or to criticize them)? Is there "ownership" of decisions – as a team and as individuals? Are incentives or disincentives related to the behaviors they are meant to encourage (or discourage)? Do all team members answer investors' questions consistently with senior management?

Many investors have years of experience, and an impressive ability, to detect cultural cohesion, motivation and intellectual freedom. The integrity in this factor is also remarkable because you can't fake it. "Culture" is not a trait that you can develop the weekend before an important on-site visit from an investor. It needs to be genuinely cultivated and reinforced through leadership and follow-through.

Discipline is a Virtue

Over 50% of asset managers say that asset growth (capital formation) is the most important priority for their firm.Over 75% of asset managers rank asset growth as one of the top three priorities.[2] Ten years into an unprecedented expansionary U.S. economy, it's not uncommon to observe asset management firms touting their returns, or successful fundraising.Indeed, the growth and optimism are so prolific, the asset management industry has become an asset class for investors, unto itself.[3] Growth in assets is typically achieved in one (or both) of two ways: put simply, raise larger funds, or raise different types of funds.

Success begets success, or so the conventional wisdom dictates, so many asset management firms are expanding their business to include other strategies, or asset classes.Maybe they're exploiting specialized knowledge that their firm has acquired. Whether expansion into other products, markets, assets or formats, expansion presents risks. If your firm has a proven track record investing in broadly syndicated loans, the middle market – or direct lending – might seem like a logical way to address a greater share of the market.Just don't presume that your investors will automatically follow. "Strategy drift" is another area that investors highly scrutinize when considering even re-ups with established managers. In fact, as lower middle market investors, Capitala Group has witnessed other firms' expansion into the lower middle market – whether for lending or private equity. We have also witnessed exits from the lower middle market.

If you want to grow your business by expanding into complimentary or ancillary asset classes, address the strategy as if it were your first fund – especially with your most long-term investors. There's a good chance that they need to be convinced that your management team has the capability for something that they view as a completely different business.

Don't sleep on ESG

If you're an asset manager, then by now, you should at least know what ESG stands for. If you're an emerging asset management firm, and you have an ESG policy, you're only scratching the surface of a potential for your firm to differentiate itself in an area that many managers currently pay lip service to.

ESG, or "environmental, social and corporate governance" factors, measure the sustainability and ethical impact of an investment. Your existing investment documents might not refer to ESG, but if you intend to raise capital from institutional investors – especially from Europe, or from certain large pension funds, you need to learn it, adopt it and implement it into your investment strategy.

ESG has gone from a subjective, abstract principal, only applying to the largest and most globally connected asset management firms, to a core area of due diligence that institutional investors are increasingly applying to both new and established manager relationships. Investors into all alternative asset classes consider ESG "fundamental to their underwrite" (as one panelist described it). Perhaps two years ago, it was impressive for an asset manager to have an ESG policy.Next time, managers should be prepared to demonstrate how they train personnel on the ESG policy, how companies are engaged to advanced ESG principals, and how ESG criteria and impact are quantified in the underwrite and monitoring of investments. A "negative screen" for ESG reasons has been the bare minimum, but now it may not pass muster.

Invest in your (principled, fundamental) relationship with your investors.

Reporting on returns, losses, efficiency, deployment pace and multiples on invested capital has almost become mechanized with the maturation of the asset management industry and the application of technology.Investors increasingly know the quantifiable characteristics of asset management firms better than the managers know themselves.

Wherever your track record benchmarks, the human element of manager due diligence will always reveal more about the firm's character and culture than the data room could possibly describe. As much as investors have increasingly compressed margins for asset managers, or demanded more specialized approaches by asset management firms to meet their demands, the most successful long-term investor/manager relationships continue to be those in which the qualitative is as understood as the quantitative.

Ask your existing or prospective investors about what's important to them, beyond terms, fees, returns and liquidity.And don't wait until you have an offering memorandum in your back pocket to do it.
Richard Wheelahan, III is the General Counsel, Chief Compliance Officer and a director at Capitala Group. Capitala Group is a $3.0 billion asset management firm providing capital to lower middle market companies throughout North America since 1998.
---
« Back to News